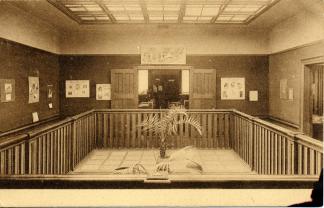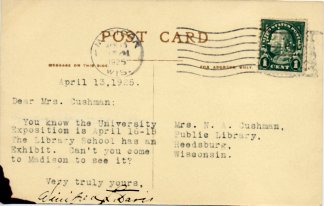 Education for librarianship in Wisconsin dates back to 1895 when the newly created Wisconsin Free Library Commission (WFLC) sponsored the first Summer School of Library Economy.  The summer school was the idea of
Frank Hutchins
, the Commission's first Secretary.  The school was personally financed by library legislative champion
Senator James H. Stout
and was directed by Katharine Sharp, director of the Library School of the Armour Institute in Chicago. A full time Wisconsin Library School, still under the auspices of the WFLC, was founded in 1906 and housed on the second floor of the Madison Public Library.
Mary Emogene Hazeltine
was its first Perceptor or Principal. She served in this capacity until 1938. In 1938 administrative control of the library school was moved from the WFLC to the University of Wisconsin. It is now the
School of Library and Information Studies at UW-Madison
and it is fully accredited by the American Library Association.  More on its history can be found
HERE
. A second library school was established at UW-Milwaukee in 1976. It is now the
School of Information Studies
and is accredited by the American Library Association. It is celebrating its
50th anniversary
this year. 
The postcard above shows the second floor atrium of the Madison Public Library when it was located in the building financed by Andrew Carnegie, now razed.  It was here that the Wisconsin Library School was located from 1906 to 1938.  Carnegie gave additional funding to enable the library school to be located in the public library building. The message on the back of the postcard which was mailed in 1925 is from library school faculty member Winifred Davis to Mrs. N. A. Cushman, Librarian of the Reedsburg Public Library.  Davis invites Cushman to visit a library school exhibit at the University Exposition.