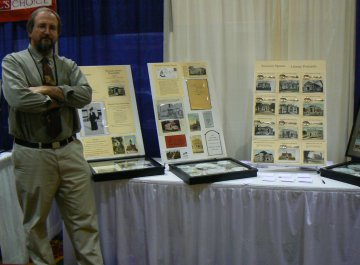 WLHC Steering Committee member Pete Gilbert at the WLHC booth at the WLA Conference.
The Wisconsin Library Heritage Center hosted a booth in the exhibits area of the 2008 WLA Conference which took place November 4-7 in Middleton. The exhibit featured selected items from the Wisconsin Library Memorabilia Exhibit which is available for display at individual libraries. The booth provided an opportunity for members of the WLHC Steering Committee to interact with a great many conference goers.
A big hit with those viewing the booth exhibit were the library souvenir spoons.