At the turn of the 19th century entrepreneur Seymour Eaton established two national commercial libraries that had an impact on Wisconsin. The first of these libraries was the Booklovers Library which provided home delivery of books by subscription. The Booklovers Library might be described as the Netflix of books for this period. It had a circulation in the millions.
The Milwaukee Library Centre for the Booklovers Library was located at 463 Broadway. This photograph is from a 1902 promotional brochure for the Booklovers Library.
The Booklovers Library pre-dated parcel post so delivery was accomplished through a combination of express companies via train and wagon and the Booklovers Library's own fleet of horse drawn wagons. This illustration from a promotional brochure shows the distribution plan for Eastern Wisconsin. For more on the Booklovers library click here.
The second of Seymour Eaton's libraries was the Tabard Inn Library which was also a paid subscription library. This library had stations in the form of revolving bookcases located in drug stores and other commercial establishments throughout the United States including Wisconsin. The bookcases held 120 books which were changed from a central location every week.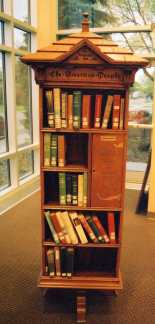 A photograph of a Tabard Inn Library Bookcase which is currently located in the Menasha Public Library. A member deposited five cents in a compartment in the bookcase The carved message around the top of the bookcase reads "The Best Reading Rooms In the United States Are the Homes of the American People". The Menasha Public Library is on the Wisconsin Library Heritage Trail. For more on the Tabard Inn Library click here.